Vertical Centrifugal Pump ZP/ZPR Series
Flow range: 17-1267m3/h
Head range: 4-40m
Power: 15-200kW
Speed: 350-2200r/min
Diameter range: DN40-DN300
Operation temperature: ≤110℃
Wet ends material: high chromium wear-resistant alloy or rubber
Structure: vertical, cantilevered, single pump casing, single stage, single suction
Brief introduction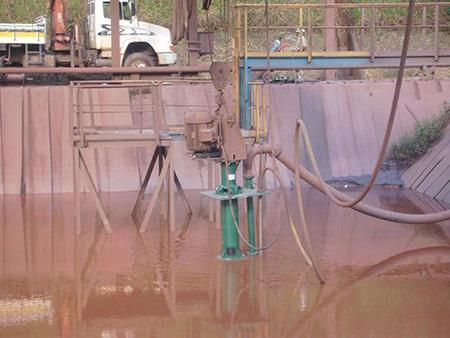 The ZP/ZPR vertical centrifugal pump will operate, even when fully immersed in a slurry pool. Its suction port feature a filter in order to prevent large particles from entering the pump, and this pump series is suitable for the transportation of corrosive, abrasive, and high concentration slurry.
The shaft, pump casing, impeller, guard board, filter and other wet ends are coated with a corrosion-resistant rubber, ensuring the pumps are applicable for transporting rounded slurry under highly corrosive working conditions.
During operation, all parts, with the exception of the water, are fully submerged, allowing this pump to be widely used in oil and gas, pulp and paper, chemical and fertilization, power plants, coal-washing plants and other industrial fields.
Structure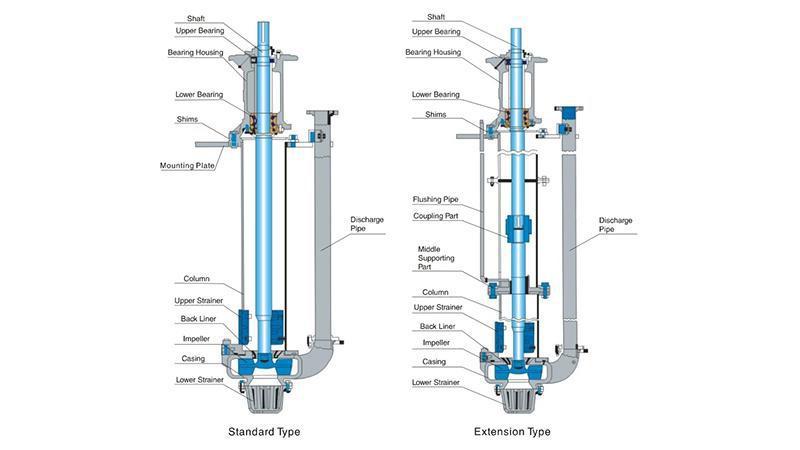 Characteristics
Requiring no shaft seal and seal water, this pump will still run normally, even under an insufficient suction power.
Uses can choose different drive shaft or suction line lengths according to the slurry pool depth levels.
Drive type includes BD and DC, naming belt drive and direct connect drive.
The diving depth can be customized according to actual client needs, within a standard size range.
Parameters
Model selection table (clear water performance table)
Note: the following are the general specifications and other sizes can be customized.
| | | | | | | | | | |
| --- | --- | --- | --- | --- | --- | --- | --- | --- | --- |
| Model | Max. Power (KW) | Liner material | Impeller material | Capacity (m3/h) | Capacity (I/S) | Head H(m) | Speed n(r/min) | Max. Efficiency (η%) | Inquiry |
| ZP-40PV | 15 | Metal | Metal or Rubber | 19.44~43.2 | 5.4~12 | 4.5~28.5 | 1000~2200 | 40 | |
| ZPR-40PV | 15 | Rubber | Rubber | 17.28~39.6 | 4.8~11 | 4~26 | 1000~2200 | 40 | |
| ZP-65QV | 30 | Metal | Rubber | 23.4~111 | 6.5~30.8 | 5~29.5 | 700~1500 | 50 | |
| ZP-65QV | 30 | Metal | Metal | 19.8~93.06 | 5.5~25.85 | 5~29.5 | 700~1500 | 58 | |
| ZPR-65QV | 30 | Rubber | Rubber | 22.5~105 | 6.25~29.15 | 5.5~31.5 | 700~1500 | 51 | |
| ZP-65QV | 30 | Rubber | Rubber | 22.5~105 | 6.25~29.15 | 5.5~31.5 | 700~1500 | 35 | |
| ZP-100RV | 75 | Metal | Rubber | 56.7~221.76 | 15.75~61.9 | 4.5~34.5 | 500~1200 | 56 | |
| ZP-100RV | 75 | Rubber | Rubber | 64.8~285 | 18~79.2 | 7.5~36 | 600~1200 | 62 | |
| ZP-100RV | 75 | Metal | Metal | 54~237.6 | 15~66 | 6~30 | 600~1200 | 40 | |
| ZPR-100RV | 75 | Metal | Metal | 54~289 | 15~80.3 | 5~35 | 500~1200 | 56 | |
| ZP-150SV | 110 | Metal | Rubber | 108~479.16 | 30~133.1 | 8.5~40 | 500~1000 | 52 | |
| ZP-200SV | 110 | Metal | Rubber | 108~479.16 | 30~133.1 | 8.5~40 | 400~850 | 64 | |
| ZP-250TV | 200 | Metal | Metal or Rubber | 261~1089 | 72.5~302.5 | 7.5~33.5 | 400~750 | 60 | |
| ZP-300TV | 200 | Metal | Metal or Rubber | 261~1089 | 72.5~302.5 | 7.5~33.5 | 350~700 | 50 | |
Quick selection chart