Slurry pumps are widely used for various mining applications, especially for the transportation of tailings slurry. Tailing slurry typically contains a number of impurities, which can easily cause damage to the pump body and wet ends. Therefore, special materials are adopted for the wet ends in our pumps.
Different minerals cause different forms of abrasion and corrosion on the pump. For example, the working conditions of mineral extraction are harsh, and pumps used in this process usually have a short life span. The media have low abrasion in concentrate transporting process, thus extending the service life of the pumps. Based on these different working conditions, we have designed pumps with different materials and structures to meet many kinds of mining applications.
Our pump is used for tailings drainage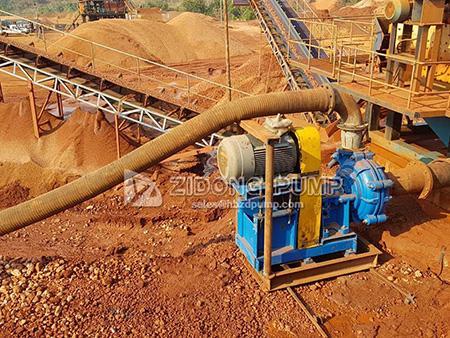 To convey high abrasive media, the wet ends of pump must have outstanding abrasion resistance. Therefore, our ZH, ZHH and ZG series horizontal centrifugal pumps are usually applied. The wet ends of these series of pumps are produced using high chromium alloy, having a hardness of over 62HRC to avoid damage caused by minerals.
Zidong can also provide several solutions for the transportation of light media. The ZL series horizontal centrifugal pumps, for example, have small size and light weight, being a cost-effective option for conveying slurry with small solids and low concentration. When the small solids in the slurry and ash are rounded, then the ZHR series centrifugal pumps are more suitable. Because it adopts natural rubber components in the wet ends, they offer better elasticity and sealing properties than metal lined pumps.
If the slurry pump needs to be immersed into water to pump minerals, the ZP/ZPR vertical submersible pumps come in handy. According to the differences of content and corrosion of the slurry, we can use high chromium alloy or natural rubber to manufacture the wet ends for such submersible pumps. When the slurry contains many solid particles, then NSQ series submersible pump can be adopted. They are equipped with a stirring impeller, capable of transporting heavy duty medias with a solid content of up to 60%.