Based on the size of the sand, different methods can be used for sand mining, like using sand gravel pumps for sand pumping, or sand dredging by chain bucket and grab bucket.

By comparison, using sand gravel pumps to pump sand can reduce the usage time of the equipment and thereby minimize sand dredging cost. It also prevents water pollution. Besides, sand gravel pumps have a wider range of motion for convenient movement and high output, making them more and more applicable in sand mining vessels.
Our pump is being used for sand dredging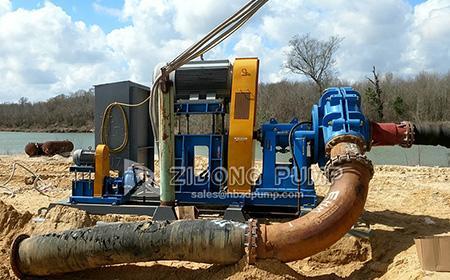 Because the conveyed sand has a high concentration and high abrasion, we recommend our heavy duty centrifugal pump to customers for transporting sand. This kind of centrifugal pump uses high grade alloy wet ends to adapt to severe working conditions. To prevent the sand from blocking the pump, we have broadened the flowing passage of this pump to allow particles with large diameter to pass through easily. This broadened-flowing-passage design provides convenience when it comes to repair and maintenance of the inner pump.
If you need to pump sand underwater, we provide submersible sand gravel pumps. Our NSQ submersible pumps can be used underwater for sand mining. Its driver and pump body can be immersed together for up to 25m underwater, delivering a maximum conveying capacity of sand mixtures with up to 60% solid particles. Its working application is significantly wider than mechanical sand dredging, improving its economic value.