Horizontal Centrifugal Pump ZHR Series
Diameter: DN25(1'')-DN300mm(12'')
Flow range: 10-2520 m3/hr
Head range: 5-52 meters
Speed: 300-2600r / min
Motor power: 15-560KW
Working temperature: -40-75 ℃
Structure: single stage, single suction, centrifugal, cantilevered, horizontal
Brief introduction
The ZHR series centrifugal pump's impeller, liner, guide plate and other wet ends are all made from rubber material. The abrasion resistance of rubber is lower than high chromium alloy, but it offers good elasticity and corrosion resistance.
Application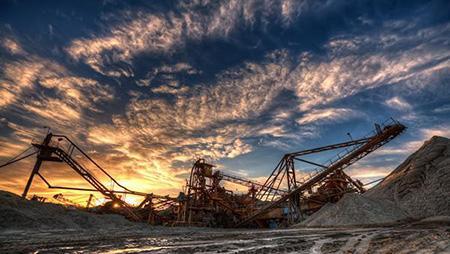 This series of slurry pump is especially suitable for the transporting of slurry containing fine particles with no sharp angles, or weak acid, weak base and other corrosive slurry, like ore pulp, ash, cement paste, gravel, etc.

ZHR series slurry pump can be intensively used in mineral processing, pulp and paper processing, construction, power generation and other industrial fields. The most common application is tailings transportation in mineral processing enterprises. Features
The materials for flow parts are available in economic natural rubber, polyurethane synthetic rubber with better resistance to wear and corrosion, or other customized special rubbers such as chloroprene rubber. Choose the one based on customer working conditions.
As for the customers of gold mine, cooper mine and other industries, the medias have higher corrosion and many abrasive particles. So we recommend customers to change the impeller with high chromium wear-resistant alloy material based on rubber liner.
When the particle content and conveying speed are within a certain range, the natural rubber liner will be more durable than metal or rubber elastic materials due to its better elasticity. Although the comprehensive performance of neoprene is inferior to the natural rubber, it has outstanding abrasion resistance in oils slurry when the temperature is below 200℃.
The pump casing, cover and transmission parts of ZHR series and ZH series are interchangeable.
This pump can be installed within multistage pumps.
The bearing assembly can be removable to bring convenience for customer to adjust the clearance between the impeller and front guide plate. Then the conveying efficiency can be maintained by narrowing the impeller clearance even the pump is worn out during the operation.
Structure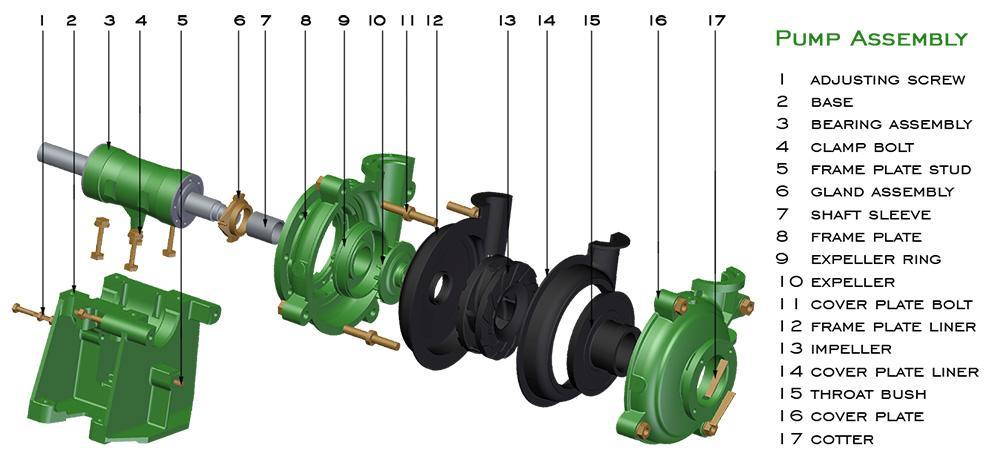 Tips: the only difference in ZH series pump and ZHR series pump is the material for the lining. And all the other components are interchangeable. Customers can choose different materials of linings based on the working conditions.
Parameters
Clear water performance
Note: the followings are the common specifications, and others can be customized.
1. ZHR-1.5×1B horizontal centrifugal pump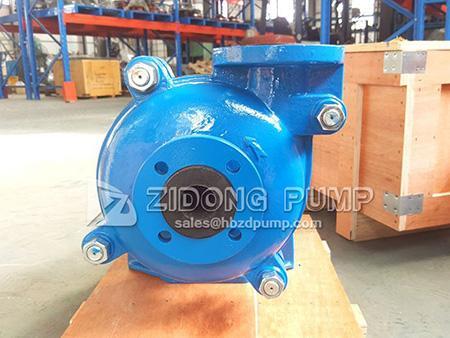 Model: ZHR-1.5×1B
Max. Power (KW): 15
Capacity (m3/h): 10.8~25.2
Head (m): 7~52
Speed (r/min): 1400~3400
Max. Efficiency (η%): 35
NPSH (m): 2~4
2. ZHR-2×1.5B horizontal centrifugal pump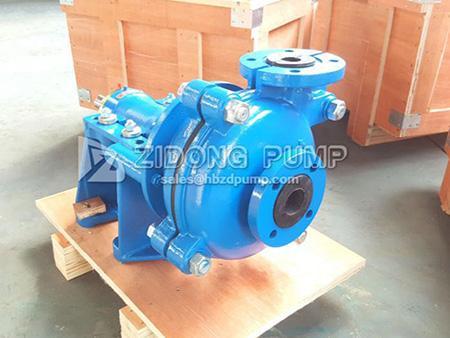 Model: ZHR-2×1.5B
Max. Power (KW): 15
Capacity (m3/h): 25.2~54
Head (m): 5.5~41
Speed (r/min): 1000~2600
Max. Efficiency (η%): 50
NPSH (m): 2.5~5
3. ZHR-3×2C horizontal centrifugal pump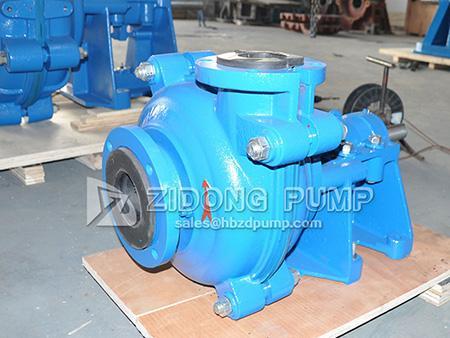 Model: ZHR-3×2C
Max. Power (KW): 30
Capacity (m3/h): 36~75.6
Head (m): 13~39
Speed (r/min): 1300~2100
Max. Efficiency (η%): 55
NPSH (m): 2~4
4. ZHR-4×3C/D horizontal centrifugal pump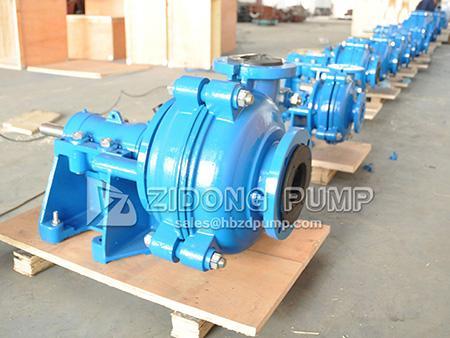 Model: ZHR-4×3C/D
Max. Power (KW): 30/60
Capacity (m3/h): 79.2~180
Head (m): 5~34.5
Speed (r/min): 800~1800
Max. Efficiency (η%): 59
NPSH (m): 3~5
5. ZHR-6×4D/E horizontal centrifugal pump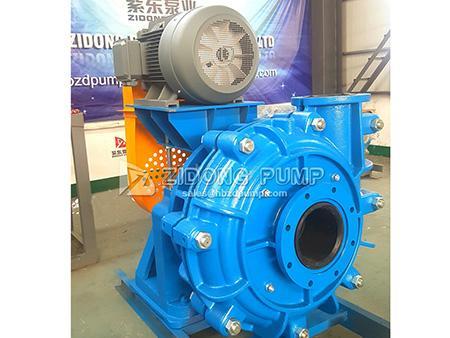 Model: ZHR-6×4D/E
Max. Power (KW): 60/120
Capacity (m3/h): 144~324
Head (m): 12~45
Speed (r/min): 800~1350
Max. Efficiency (η%): 65
NPSH (m): 3~5
6. ZHR-8×6E horizontal centrifugal pump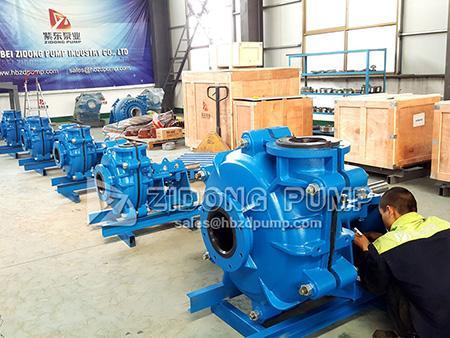 Model: ZHR-8×6E
Max. Power (KW): 120
Capacity (m3/h): 324~720
Head (m): 7~49
Speed (r/min): 400~1000
Max. Efficiency (η%): 65
NPSH (m): 5~10
7. ZHR-10×8ST horizontal centrifugal pump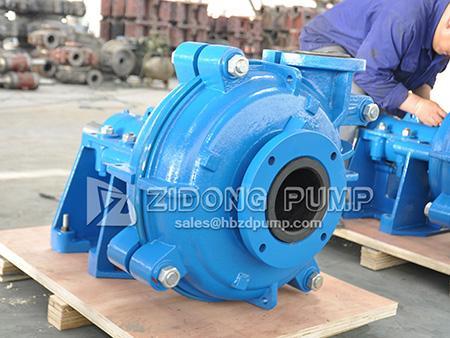 Model: ZHR-10×8ST
Max. Power (KW): 560
Capacity (m3/h): 540~1188
Head (m): 12~50
Speed (r/min): 400~750
Max. Efficiency (η%): 75
NPSH (m): 4~12
8. ZHR-12×10ST horizontal centrifugal pump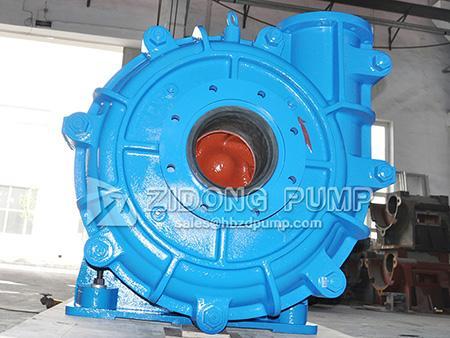 Model: ZHR-12×10ST
Max. Power (KW): 560
Capacity (m3/h): 720~1620
Head (m): 7~45
Speed (r/min): 300~650
Max. Efficiency (η%): 80
NPSH (m): 2.5~7.5
9. ZHR-14×12ST horizontal centrifugal pump
| | | | | | | | |
| --- | --- | --- | --- | --- | --- | --- | --- |
| Model | Max. Power (KW) | Capacity (m3/h) | Head (m) | Speed (r/min) | Max. Efficiency (η%) | NPSH (m) | Inquiry |
| ZHR-14×12ST | 560 | 1152~2520 | 13~44 | 300~500 | 79 | 3~7 | |
Quick selection chart